This Spiritual Travelogue not only contains more than 100 colour photos of Jomsom, Kali Gandaki, Muktinath & Lubra Valleys, but also presents us with a flowing description of life's most important treasure, together with the way to turn this most essential key within the lock of mind. The verses of 'The Rainbow Bridge', its accompanying commentary and complementary photographs thus inspire one to realign perception with its all-pervasive power of Awareness. Through accessing our essential and natural state, we may bring forth its inherent qualities that reside deep within the multi-faceted structural framework of mind itself, which is otherwise difficult to locate unless guided through the melee of surface emotions and deep-seated habitual patterns of consciousness. There's also a holistic feeling of artistry in the overall presentation of this standard sized, hard back book containing a plethora of unusual colour photographs taken high up in the Trans-Himalayan valley of Muktinath in the northernmost region of Central Nepal that not only enhance the book's layout, but also add meaning to the text.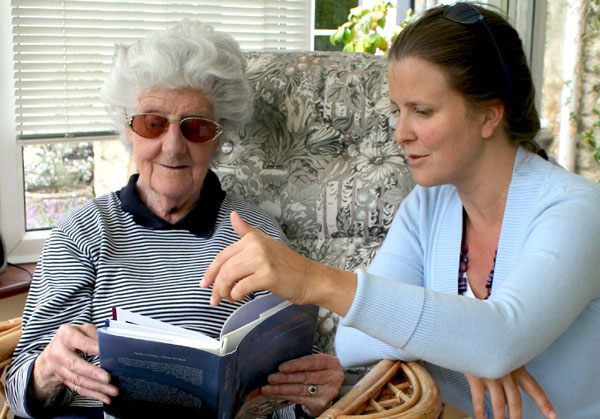 'Susan showing 'The Rainbow Bridge' to her prep school Head Mistress, Mrs Joan Amphlett, Glos, UK'
Read sample pages HERE
Buy in India
Winter Offer 40% off
Buy Hard Copy for Rs 675/- Rs 1125/- 40% off
Please order through the website and this will be sent to you by post
For shipping inside India, postage is included.
Buy Soft Copy as pdf for Rs 270/- Rs 450/- 40% off
Please follow the following steps to buy the book:
Step 1 – Please make a bank transfer to the following bank details
Step 2 – Send me a screenshot of the bank transfer to gj.susan@gmail.com
Step 3 – In the same email, let me know the address to ship the book/s to
Step 4 – I will confirm shipment in return email.
Bank Details:
Account name: Vibgyor Publishing House Pvt Ltd
Account no: 33038617528
Bank: State Bank of India, Nr Telephone Exchange, Haripur, distr. Kullu, Himachal Pradesh, 175136
IFSC Code: SBIN0011882
Swift Code: SBININBB288
Beneficiary email id: gj.susan@gmail.com
Beneficiary mobile no: +918894285279
Beneficiary address: Shanti Bhawan, Bhosh Village, PO Haripur, Distr. Kullu, HP, 175136
---
Buy Outside India
Buy Hard Copy $9 $15 40% off

Please order through the website and this will be sent to you by post
During the Covid crisis, only courier postage is available, so cost of shipping outside India is $30.
Buy Soft Copy as pdf download for $3.60 $6 40% off
RECOMMENDATIONS
"I was traveling in Dharamsala after an intensive meditation retreat when this book accidentally landed in my hands and its message spoke so loudly that I could not put it down, and still cannot. Written in beautiful poetic form, and expanded on with explanative commentary, the message steers the reader to the author's transformational experience high in the Himalayas. This is a must read for those seeking true perception of the beauty around us."
Mark Kacik, USA